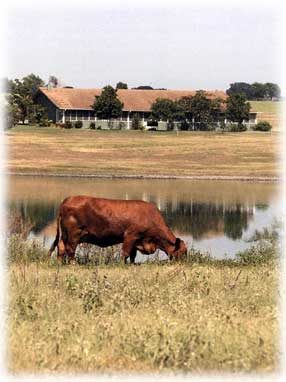 R2 Ranch - Building a Dream into A Top Notch Cattle Busines
By Lea Stokes



New Jersey native Richard Luciano and his wife, Margaret Bennett, started out on a journey in the early 1990s. Bennett dreamed of owning property in the Texas Hill Country and Luciano wanted a quiet place to retreat. Now, 13 years later, they own and operate one of the largest registered Red Brangus operations in the United States. And it's in Texas. Through his visiting around, Luciano had heard that Red Brangus breeder Gary Whitney was leaving the country and selling his herd. "We looked at the cattle and liked them," he said. "We purchased about 30 head, and that started out herd."


Luciano met Bennett, a sixth generation Texan, while attending Rice University in Houston. They married and moved to New Jersey, where Luciano became co-head of global corporate finances for Merrill Lynch in New York. Further proving his ability to convert earned education into success, Luciano then focused some of his attention to that dream that he and his wife shared together.

Focusing first on his wife's dream, but realizing it could be his, too, Luciano bought property near the Hill Country community of Fischer, Texas, in 1991. He, of course, knew they needed to retain the agricultural tax exemptions, and even talked to one of their Fischer neighbors about the neighbor running some commercial cows on the place. "But after we started looking at the cattle, we decided that most of them just didn't look like what we wanted to have around," Luciano said, and that's when they decided to assemble a good set of registered cattle of their own. This decision was more in line with the expectations growing from his research and his inherent nature to make all investments make sense.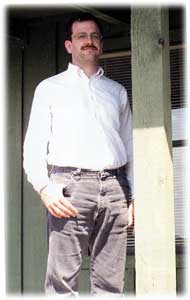 Since neither Luciano nor his wife had any background in agriculture, Luciano spent hours and hours researching and reading, and going to sales and making herd visits. "We hadn't decided what to do precisely; we were looking at different breeds-Brangus, Red Brangus and Beefmaster," he said. But from his study, he knew that Brahman-influenced cattle thrived in the hot, humid climate, and he liked their appearance.
Through his visiting around, Luciano had heard that Red Brangus breeder Gary Whitney was leaving the country and selling his herd. "We looked at the cattle and liked them," he said. "We purchased about 30 head, and that started our herd." Luciano quickly culled the 30 head down to 20. Then he started buying again, and continued to buy and cull. "Our culling criteria is simple but strict," he said. "They've got to breed." With that first purchase, R2 Ranch was in the registered Red Brangus business. In 1997, Luciano added 160 neighboring acres to his Fischer property. His original thought was that the new addition was going to be for expansion of his cow herd. But shortly thereafter, he was introduced to one of Mother Nature's devastating Texas droughts. "When the drought hit, we had to cull even more," he said.
But Luciano still had ideas of expanding, even as he was starting to realize that buying more property in the Hill Country was not cost effective. "You can spend a lot of money and not end up with very much grazing capacity. So we started looking elsewhere, and I found a piece of property on the Internet, near Staples, Texas." Luciano knew this place was too large and too expensive, but he kept his eye on it. The price on the property dropped three times before they made the trip to Texas look at it.
"We thought it was just too big, 1,820 acres. But we ended up buying the whole place," Luciano said. "My initial thought was to stock it gradually over time, but our first two big purchases were most of the 1999 Dogwood Creek heifer crop and the McClanahan herd in its entirety. I decided I would just take my time and incorporate the new acquisitions into my herd and go from there."
Luciano's thought of taking it slowing abruptly changed in February 2001, when he heard that the famed Morrow herd of the M&M Ranch was for sale. The M&M Ranch was known worldwide for its outstanding Red Brangus herd. They had performed well in the pasture and in the show ring. "We made that purchase, and then all of a sudden, the place was full," he said.
The addition of this herd made R2 Ranch the largest Red Brangus producer in the breed. And living in New Jersey full-time, means Luciano depends heavily on his Texas-based staff. "When we bought the property in Fischer, we hired Bob Toussaint, a local who was familiar with the area," said Luciano. "Then when we bought this piece of property in Staples, we hired two of the employees that had worked for the previous owner. They turned out to be two great guys, Tommy Camacho and Pedro Tello." R2 Ranch also employs Camacho's son, Ricky.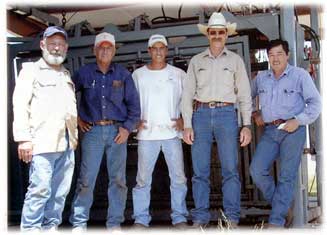 Luciano continued, "Then when we bought the Morrow herd, I decided we would need someone full-time to work with the cattle. Bob was originally in construction, Pedro and Tommy work stocker cattle, and I thought we needed someone here on the grounds who knew the purebred cow/calf operation. We talked with several people and hired Doug Marburger in June 2003."
Luciano knew that Marburger had deep roots with the Red Brangus breed and the people who raise them, and today, the two of them together make most of the management decisions.
While R2 Ranch has concentrated on Red Brangus, they also raise registered Red Angus. "We have about 450 total cows, two-thirds of which are Red Brangus and one-third Red Angus," said Marburger.
About one-half of the Red Angus herd is used to breed up to Red Brangus. As a rule they keep the spring calving Red Angus at Fischer and the Red Brangus and the fall calving Red Angus at Staples, where there's better soil and fewer trees. "They don't spend the whole day in the shade, they're out grazing," Luciano said. "They can cover the ground and get to the forage." About 1,100 acres of the main ranch in Staples are in improved grasses. "The base forage here is mostly a warm season coastal bermuda grass," said Marburger. "We utilize the winter forage as a supplement to the cow herd or to the growing yearling bulls or heifers. We also feed hay and standing bermuda grass during the winter."
Breeding excellence through performance is high on the list for Luciano. The cattle have to perform first. "We are feeding our cattle less and less each year and we are still getting what I think are good weaning weights -- averaging over 560 pounds on our spring 2003 Red Brangus bulls," he said. "I want to raise cattle that will be capable of doing more with less." "We keep a free-choice protein supplement out for the bulls," said Marburger.
"We do hand-feed them some for the extra nutrition, and also to keep them gentle, but we don't want to sell a fat bull. We want to sell a bull that is in good condition so when the new owner turns him out he doesn't lose so much weight," said Marburger. "Basically what we are trying to do is grow them out on forage. Most of the data will back up the fact that if they do well on forage, they will do well in the feedlot," said Marburger. Like many humans have been doing, Marburger says they are eliminating the high carbohydrate diet from their bulls and moving to one that is more roughage-based.
"We basically do the same with the heifers," he added. R2 Ranch ultrasounds all of the bulls as yearlings. "We see the whole industry moving toward carcass quality," said Luciano. "We have started testing our herd sires using GeneStar testing for tenderness and marbling. The tenderness test determines if an animal carries zero, one or two copies of a particular gene that influences tenderness. The same is true of the marbling test. These genes are not all that determines tenderness or marbling, but they provide us with another piece of the puzzle. And we plan to expand our use of the tests over the next year." This DNA-based tenderness test detects two different forms of the gene, one associated with increased tenderness and one associated with increased toughness. The marbling test determines which cattle in their herds carry higher potential for improved marbling. This genetic test can be used to determine if a sire or dam will breed offspring that have an increased ability to marble.
Each October, R2 Ranch holds a production sale. Last year they sold 75 females, including both Red Brangus and Red Angus. A handful of herd sire prospects are currently being sold through the sale, but the majority of the bulls are sold private treaty, with most of them going into Mexico. "We try to hold our private treaty bulls until they're about 13, 14 months old," said Luciano.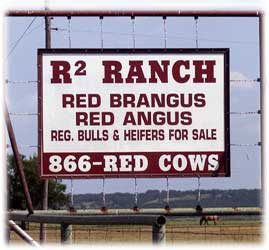 Although they sell some, Luciano is adamant about retaining females, too. "I recognize that if I'm am doing things right, if I'm actually producing better females every year, I've got to keep some of them for myself in order to keep producing better cows," he said.
R2 Ranch has also had success in the show ring, and they believe showing is a great marketing tool. However, last year they made the decision to not show against their customers, so they don't show females.
But they do continue to show bulls. In 2003 they exhibited the reserve yearling champion bull at San Antonio and the reserve calf champion bull and reserve junior champion bull at Houston.
The junior program is very important to the Lucianos and they feel it's important to the association. With two young children themselves, they invest a lot of time and money in the Red Brangus and Red Angus youth programs. Three years ago they started the R2 Ranch Junior Jackpot Futurity, which allows junior members who have purchased an R2 female a chance to show for top prize money. Last year's winner was awarded a $10,000 cash prize. The exhibitor of the reserve grand champion heifer won $5,000. This year's event is planned for April 24.
"I believe the future for Red Brangus is a bright one," said Marburger. "We have had a great amount of interest in our red cattle, both from commercial cattlemen and registered breeders. I think the news is finally getting around that these red-hided cattle are working-in the pasture, in the feedyard and especially on the dinner plate. As demand for Red Brangus-influenced cattle gains momentum, we as seedstock producers are sitting in the drivers seat."
Luciano agrees. He and his wife have made a long journey since the early '90s, but that journey is certainly not over. "It's always been my goal to have the best quality red cattle," he said. "Now how you define best is the key. I define best by, first, fertility. Without reproduction there is no production. I guess the most important thing in a cattle operation is that you have to have calves every year and they've got to be big and healthy. Then the next step is the carcass. We want to produce the best red cows, and those red cows have to work for the commercial cattleman, because that's the end, the market."